What does a physiotherapist clinic do?
Physiotherapy is an established and evidence-based profession, which uses scientifically proven techniques to help many orthopedic and neurologic conditions.
Physiotherapists are graduates of a recognized university-based school of physiotherapy and are qualified to provide preventative, diagnostic and therapeutic services aimed at restoring function and preventing disability arising from disease, trauma or injury. With their applied knowledge and understanding of the human body in action, Physiotherapists are able to help you to increase your mobility, relieve pain, build strength and improve balance and cardiovascular function.
Our Physiotherapists treat the Following Conditions
Spinal and joint arthritis
Cancer and palliative care
Pregnancy related back pain
Cerebral palsy/Spina bifida
Post accident rehabilitation
Cardiac & Respiratory conditions
Are You in Need of Physiotherapy Treatment?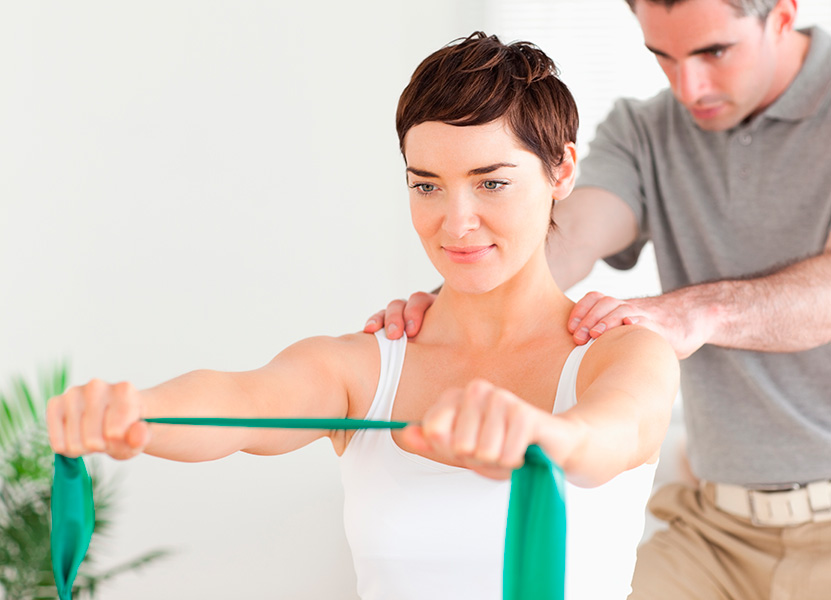 Physiotherapists not only treat injuries, they also teach you how to prevent the onset of pain or injury that can limit your activity. 

Orthopaedics is defined as the branch of medicine devoted to the study and treatment of the skeletal system, its joints, muscles and associated structures. Physiotherapists specializing in this field have extensive knowledge of musculoskeletal anatomy and physiology which is the basis for the assessment and treatment of orthopaedic problems.

 Orthopaedic Physiotherapy commonly involves pain management, mobilization of soft tissue and joints and the selective stretching and strengthening of muscles. Gains in range of motion and strength are then applied to functional activity.
At The Center for Physical Health we integrate the practice of physiotherapy as it relates to enhancing fitness. Our Active Program involves the specific assessment of the physical function of your neuromuscular, musculoskeletal and cardiorespiratory systems. We then put in place a plan that involves the treatment, rehabilitation and prevention of physical dysfunction (obesity, musculoskeletal weakness/injury, poor cardiovascular function, bone weakness/osteoporosis). Our goal is to relieve pain, promote mobility and health, teach independence through exercise and to develop, maintain, rehabilitate or augment function.
Is an MD referral needed for Physiotherapy treatment?
No referral is necessary to participate in physiotherapy treatment. However, patients are advised to check the details of their extended health benefits as some plans may require a physician's referral in order to get treatment costs reimbursed.
If you have extended health benefits, have been injured as a result of an automobile accident, or have a claim under WSIB, then you will likely have all of your treatment paid for. If you are using extended health benefits, check the details of your coverage in your Extended Health Manual, or speak with your Human Resources department. Physiotherapy is covered by most health insurance plans.
Book Your Consultation Today